Business hours allow you to custom set times when you will (and won't) receive notifications about calls/texts/voicemails. It can be thought of as the times you want your SwitchLine to be "Open for business". Setting Business Hours is completely optional and the default state for SwitchUp is with Business Hours disabled, meaning you will receive calls/texts/voicemails 24 hrs a day.
Calls/texts/voicemails received outside of business hours are still received by and are accessible in SwitchUp, but you will not be disturbed by a notification when they come in. Calls will not ring your phone, and will immediately go to voicemail.
In the example below, you would receive notifications for all calls/texts/voicemails on:
Monday between 9-5PM
Wednesday between 9-5PM
Thursday between 12:00AM - 11:59PM or All day.
You would not receive any notifications on:
All day Tuesday, Friday, Saturday, and Sunday
Monday before 9AM or after 5PM
Wednesday before 9AM or after 5PM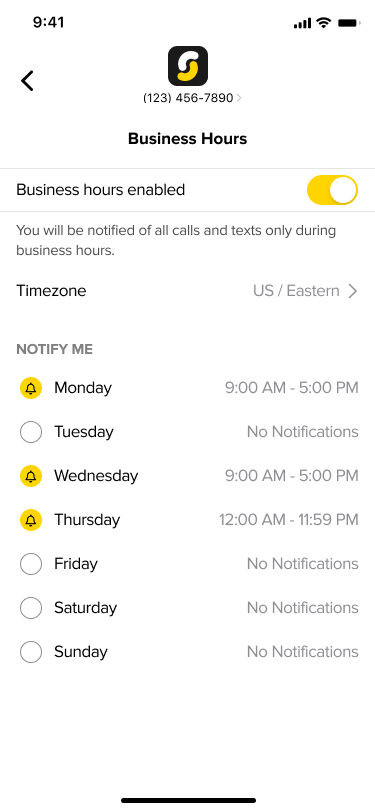 Header Business Hours Icon
When active, the Business Hours icon can be seen at the header of the Home (Chats) page.